Madison and I had fun designing our summer mantle today. I spent sometime online for inspiration, there are some beautiful ideas out there. I knew I wanted to incorporate pictures in a fashion that would make it easy for me to change them throughout the summer (we LOVE to take pictures in this household). Melissa from One Craft at a Time did a darling project that allowed her to switch her pictures and this is what sparked my idea for the mantle.
Using seashells that the kids and I collected on Spring Break with grandma, Madison created these two pieces. The bottoms were filled with sea glass chips, topped with the shells. She hotglued some pretty ribbon around sides. I put one vase high on the candle holder and the other on the mantle.
The letter "H" I made for the Spring mantle has made an encore performance. I added a starfish and sand dollar that I borrowed from my youngest two children. They reluctantly agreed that they looked nice up there!
This little guy is Madison's souviner from Charleston. He is so cute!
Now here are my favorite parts~!First, is this framed collage of summer pics. You know the collages they always try to sell you when you order your pics off of Snapfish or Walgreen's? Well, I am the sucker who always buys them (well, not everytime). I think they look so cool! I love this one because I took some of the pics and the kids took some.
My second favorite feature of this mantle is how I added a little gallery hanging off the mantle. I took two pieces of wide green ribbon, looped them and attached them to the mantle. I then took a bamboo stick and places it through the hoops horizontally. I attached white twine string from one side to the other. Using the cutest, tiniest little clotheline clips ever (from Walmart, spray painted white), I hung some favorite pictures. I love how it looks, and I can keep changing the pics.
Well, I hope you enjoyed my mantle! We have been busy crafting, etc. indoors because it has been in the mid 90's for a week and a half with only one thunderstorm. Hot city!! Hope everyone is having tons of summer fun!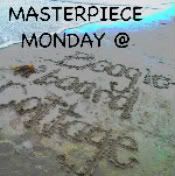 Beth